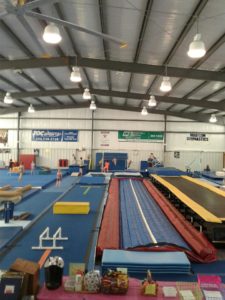 The center is conveniently located at 29777 Old Highway 20 off the southern end of County Line Road. We are the Madison branch of Huntsville Gymnastics Center, offering you the same high -quality instruction, without the drive! We offer a wide range of class times, while consistently maintaining the lowest coach/student ratios in the area.
We offer gymnastics classes for boys and girls for ages 2 and up, as well as home-school groups and Boys Team (our Girls Team trains in the Huntsville center). Since this is just a preliminary list, if you do not see the time you want, please ask and we will see what we can do to add a class at the time you need.
All our classes are kept very small. We only allow 7 students in our older classes, and only 6 in the pre-school classes, to ensure the best learning environment possible. We never overfill classes! You are welcome to come by and watch our classes at any time.
Ken Day is the director and head coach of the Center. Ken is a former gymnast and has coached and run gymnastics centers most of his professional life. Misayo Heacock-Lim is the girls developmental coach and Caleb Farrington is the boys developmental coach.
At MGC we focus on teaching. We teach gymnastics and tumbling skills using safe progressions in small classes with the best equipment – and enough of it that our students never have to wait in line. We want our students to be safe while they are learning and to develop strength, coordination and physical confidence through the unique sport of gymnastics.
We believe that these are the keys to our success, and the reason for our continual growth over the last twenty-four years. We warmly invite you to come by at any time and see our center. If there is no-one available when you call in Madison, just call us in Huntsville on 256-883-0566 and the staff there can assist you with all questions about Madison Gymnastics.
2/3 Year-Old Class
30 Minute Class
Monday 10:00 AM
Monday 10:30 AM
4/5 Year-Old Class
45 Minute Class
Monday 11:00 AM
Monday 3:15 PM
Monday 3:30 PM
Monday 5:00 PM
Tuesday 3:15 PM
Tuesday 4:15 PM
Tuesday 5:15 PM
Wednesday 3:30 PM
Wednesday 5:30 PM
Thursday 4:15 PM
Thursday 5:15 PM
Friday 3:15 PM
Friday 4:15 PM
6/7 Year-Old Class
60 Minute Class
Monday 3:15 PM
Monday 4:00 PM
Wednesday 3:15 PM
Thursday 4:15 PM
Friday 3:15 PM
8+ Girls Gymnastics
60 Minute Class
NO OPEN CLASS TIMES
Intermediate
90 Minute Class
NO OPEN CLASS TIMES
6-8 Boys Gymnastics
60 Minute Class
Monday 3:15 PM
Thursday 3:15 PM
8+ Boys Gymnastics
60 Minute Class
Thursday 5:45 PM
INT/ADV Boys Gymnastics
60 Minute Class
NO CLASS TIMES AVAILABLE
8-11 Acro
60 Minute Class
NO OPEN CLASS TIMES
11+ Acro
60 Minute Class
NO OPEN CLASS TIMES
Madison Gymnastics FULL Classes
WAIT-LISTED CLASSES: These classes are FULL.  The times shown are for wait-list and make-up purposes ONLY.
2/3 Year-Old Class
30 Minute Class
Monday 10:00 AM
Monday 5:30 PM
Monday 6:00 PM
Tuesday 10:00 AM
Thursday 10:00 AM
Thursday 5:15 PM
Thursday 5:45 PM
4/5 Year-Old Class
45 Minute Class
Monday 11:00 AM
Monday 3:30 PM
Monday 4:15 PM
Monday 5:00 PM
Monday 5:45 PM
Tuesday 10:30 AM
Tuesday 1:30 PM
Tuesday 3:15 PM
Tuesday 4:15 PM
Tuesday 5:15 PM
Tuesday 6:00 PM
Wednesday 5:30 PM
Wednesday 5:45 PM
Wednesday 6:15 PM
Thursday 10:30 AM
Thursday 3:15 PM
Thursday 3:30 PM
Thursday 6:00 PM
Thursday 6:15 PM
6/7 Year-Old Class
60 Minute Class
Monday 3:15 PM
Monday 5:00 PM
Monday 5:45 PM
Tuesday 3:15 PM
Tuesday 4:00 PM
Tuesday 5:00 PM
Wednesday 1:30 PM
Wednesday 3:15 PM
Wednesday 4:15 PM
Thursday 3:15 PM
Thursday 4:15 PM
Thursday 5:00 PM
Thursday 6:00 PM
Friday 4:00 PM
Friday 5:00 PM
8+ Girls Gymnastics
60 Minute Class
Monday 4:15 PM
Monday 6:00 PM
Tuesday 6:00 PM
Wednesday 1:30 PM
Wednesday 3:15 PM
Wednesday 5:15 PM
Wednesday 6:15 PM
Thursday 4:00 PM
Thursday 5:00 PM
Friday 5:00 PM
Intermediate
90 Minute Class
Monday 4:15 PM
Tuesday 5:15 PM
Wednesday 4:15 PM
Thursday 6:00 PM
6-8 Boys Gymnastics
60 Minute Class
Monday 3:15 PM
Thursday 3:15 PM
8+ Boys Gymnastics
60 Minute Class
Monday 6:45 PM
Thursday 5:45 PM
8+ Acro
60 Minute Class
Monday 6:30 PM
Tuesday 3:15 PM
Tuesday 4:15 PM
Wednesday 6:30 PM
Thursday 6:45 PM
11+ Acro
60 Minute Class
Wednesday 6:45 PM
Int/Adv Acro
60 Minute Class
Tuesday 5:45 PM